Open For Business
10 am
Mmm
Pregame Widmer at J&Ms
It's definitely 2 beer 30...
noon
Gates open, bag searched, Baby Megan's first game. How can a 6-month old girl be so excited? Sweet!
noon 30
Had to partake in $5 beer. Nothing like a pee-sized dixie cup:
noon 35
Hiked up to row 27 - only 1 row from Elliott Bay. Mmmmm Garlic Fries (not)...
noon 40
Spilled $.78 worth of beer on bro-in-law. Gulped the rest. Mmmm Bud light (not)...
1-ish.
Dipstick behind me has taken his seat. Not sure how many pregame beers he's had, but I'd guess at least two or three. By the time the Presidents play, he's downed a few more.
1:30-ish.
Good music! The Presidents! Glad to see 'em back together recording again.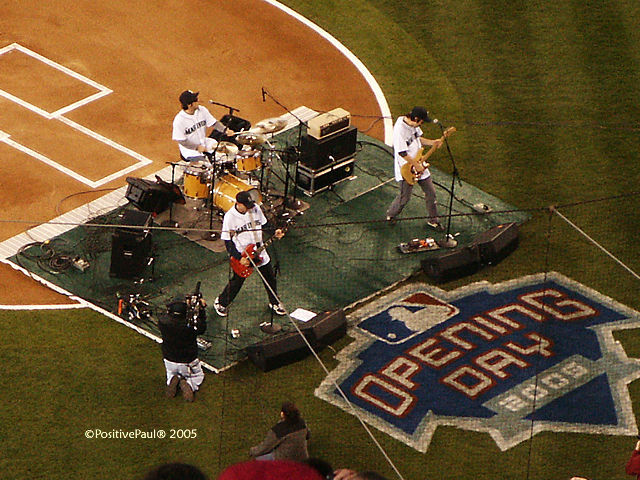 1:45-ish.
Teams come out on the field. Home team shows up through flashing strobe lights and smoke machine. Everyone involved with the team, from the assistant floor scrubber to Ichiro, gets the same royal, red carpet treatment. Can barely hear from the fireworks. Poor chaps in the LF bleachers.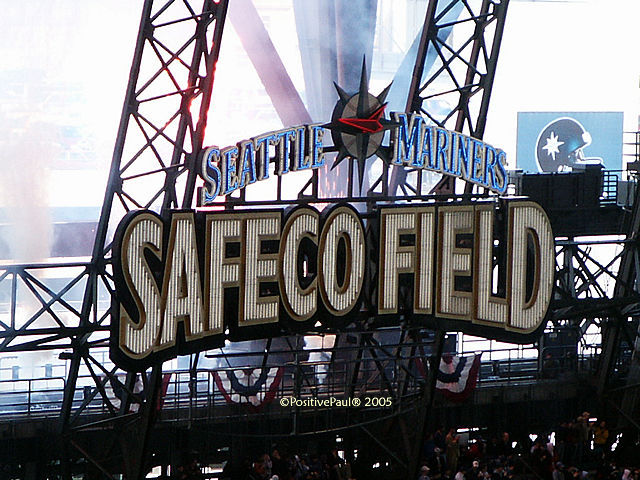 1:55-ish.
Roof opens. I tried to sneak a peak through my zoom lens to see if Edgar had his garage door opener handy, sitting on Edgar Martinez Drive. Nope. It's some other dude with a power trip. Besides, Edgar was warming up in the bullpen.
2:05-ish.
Edgar throws a strike to Dan Wilson. Okay, it was outside a bit, but as long as Edgar was throwing it, it's a strike.
2:10-ish.
Jamie's first pitch. Ball. Great. Way to start off the season. Next one's a ball, too. Got Shannon Stewart, though. 1-2-3 first for Moyer. Excellentttt........
2:18:14 PM
Ichiro's first hit (timestamp courtesy of digital camera).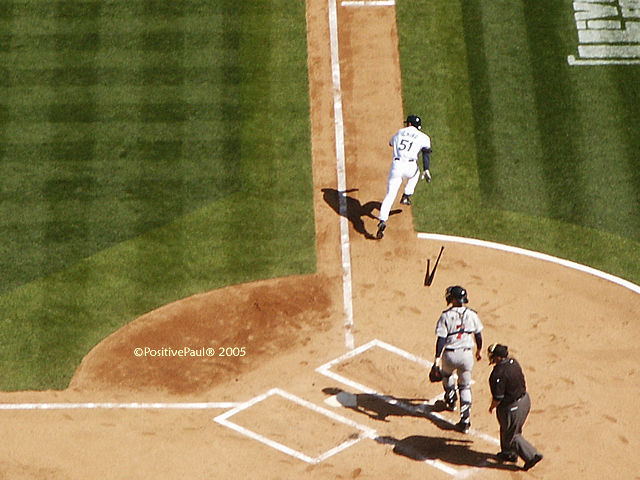 2:19-ish.
Beltre's first M's at-bat. Reaches on a throwing error by Radke. Ichiro's safe at second, Beltre's safe at first.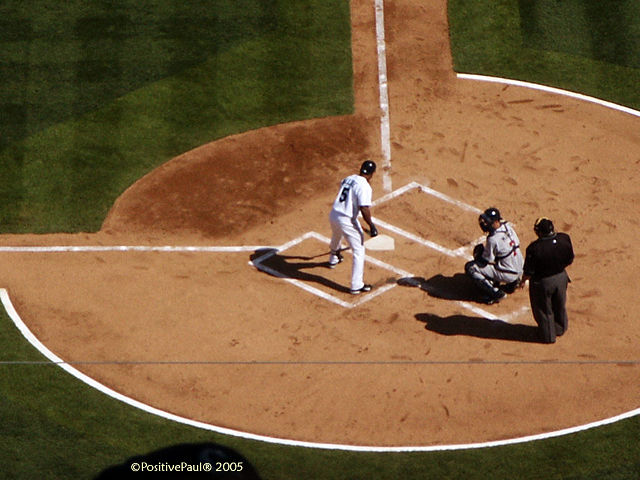 2:20-ish.
Sexson's first pitch seen as an M. Saw it pretty well, I'd say. So did the hand-operated scoreboard in LF. 3-0 M's. Here's the aftermath (from my "analog" camera), with the three M's representatives to the 2005 All Star Game:
2:21-ish.
Hi-5'ed Obnoxious guy behind me. What the heck -- I was in Sexson awe.
2:22-ish.
Brother-in-law peels me from the ceiling. Game continues. Oh, yeah, it's Boone up to bat. O well, he made an out.
3rd inning (lost track of time).
Beltre singles, and Sexson jacks it out again (bringing Beltre home again). Why do I have the feeling we're going to see a lot of that. 5-0 M's. Call the wife to check on how her workday's going. They don't have the radio going, so I give her the news. Can't complain...
Between the 3rd and 8th innings.
Justin Morneau fans in front of us boost their cheering up a few decibals. Obnoxious Guy behind me (completed a 6-pack, has two beers in reserve) shouts "Justin Morneau Loves his Porno!" I'm surprised that security hasn't grabbed him yet. I wish they would've. Ichiro as Brad Pitt. Raul as Yul Brenner. I'd say the latter is a more accurate look-alike. I was 1-2 on the scoreboard games. Ball was indeed under hat #2, but I cheered for the yellow boat, instead of the red one.
8th inning.
Obnoxious guy dumps one of his two bullpen beer cups in his lap. Problem is, I was sitting downhill. My coat and pants are soaked, as is my camera bag. Fortunately it'll be awhile before we make it on the road, and my clothes somewhat dry. Definitely spilled more than the $.78 worth that I dripped on my bro-in-law. Grr.
9th inning.
Ed-die Ed-die!!!! Can't believe Guardado is pitching, thought he'd go on the DL. Who needs spring training? Strikes out first two guys, and damn near gets Ford.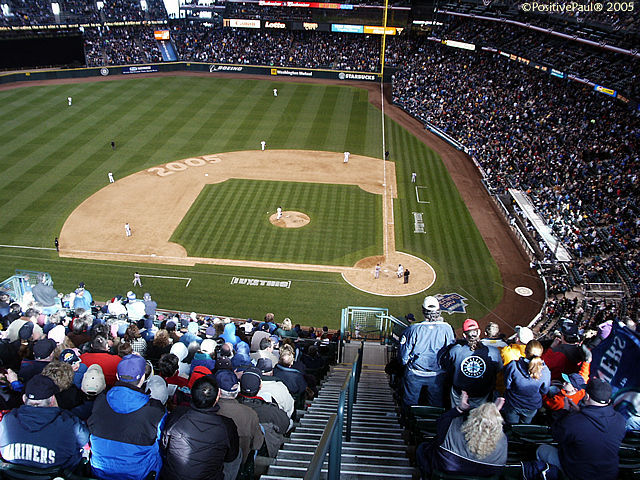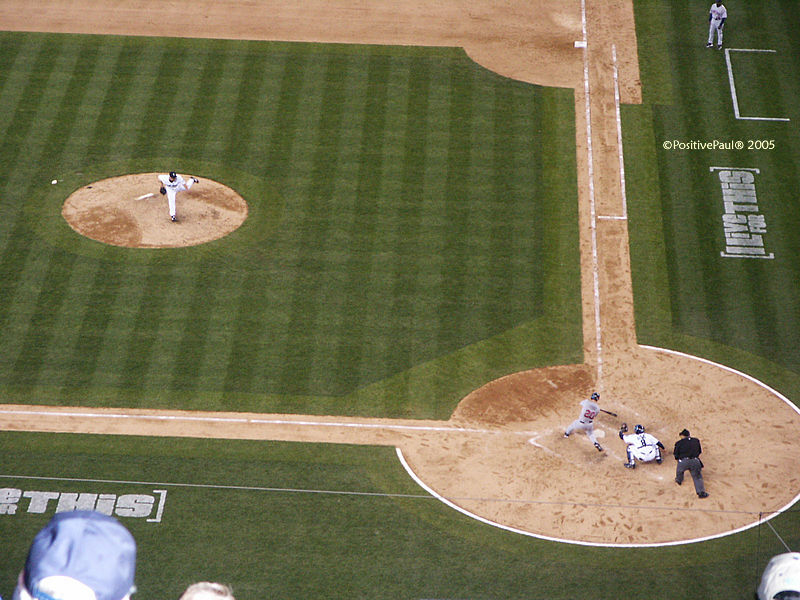 4:50-ish.
Made it back to the car.
5:40-ish.
Finally out of the parking garage.
5:45-ish.
On I-5 now. Postgame show on. Guy by the name of "Positive Paul" calls in from Puyallup. I just about flipped. I've heard of this guy, since I get accused of
being
him all the time. I'm Paul. I'm Positive. So, how can I
not
be "Positive Paul?" I
swear
this guy on the radio is not me -- I was driving, and my cell phone was buried under my beer-soaked coat. My brother and bro-in-law can attest to it.
7-ish.
Finally got dinner and am home in Oly. Aaah...
Thanks to my bro for taking several of the early pix (including Ichiro!, Pres's, SafecoSign). I was too busy manning the analog camera, and don't have those pix yet...