Momentum...
Wow. That's a little better. Sweepage. Taking a series from a completely hot team (as we did against the White Sox). So we're stopping teams that are hot, and being the soothing remedy for teams that are pukin' their guts out. Whatever. We've pretty much accepted 'round here that the cosmos definitely has tons of chaos.
Corey Brock (one of the better MLB writers, yay -- they finally hired a good one)
gives us a little info on George
:
Sherrill has retired 10 of the last 13 right-handed batters he's faced. Two of those batters have reached base on walks while another reached on an error.

Now, I don't know about you, but the fact that George is a) being allowed to face righties and b) starting to get a lot more comfortable against 'em is really, really comforting. He outright made Vlad Guerrero look silly last week, something that is quite difficult to do.
Hey -- Deanna got a great shot. I'll pilfer some of her bandwidth (why she didn't just pilfer Blogger's free stuff, I'm not exactly sure) and post it here: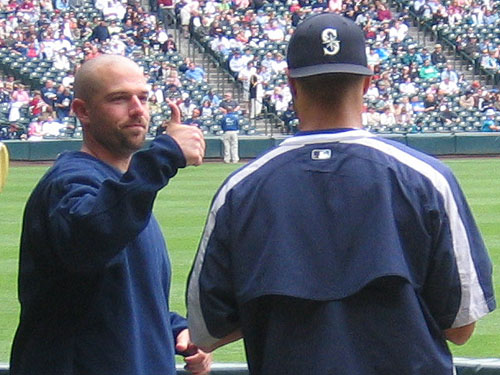 No, George, thumbs up to you, man!
The "Free George Sherrill" campaign is trekkin' right along...